Inflation, supply-chain issues still shaping seafood consumption trends in 2023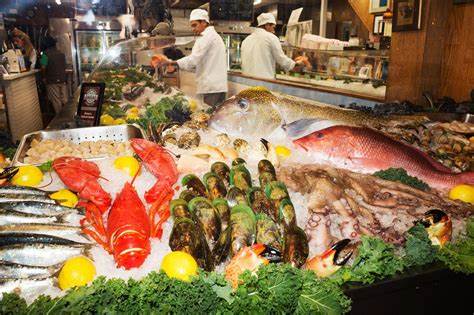 Economic obstacles related to record-high inflation, Russia's invasion of Ukraine, and the lingering COVID-19 pandemic have left seafood suppliers, retailers, and foodservice operators contending with labor shortages and a myriad of other supply-chain hurdles. Consumers, too, are feling the pressure as they continue to grapple with rising food and energy prices.
All told, Americans' seafood purchasing habits have been undeniably altered over the past year, FMI – The Food Industry Association Vice President of Fresh Foods Rick Stein told SeafoodSource.
"In 2022, inflation and supply-chain issues caused seafood shoppers to change their habits," Stein said. "Higher prices at both the seafood department and at restaurants caused many shoppers to leave the category entirely. However, we expect this trend to change, particularly for the grocery seafood department."
Recent data from IRI and 210 Analytics indicates that consumer worries about inflation remain elevated at the start of the new year, 210 Analytics Principal Anne-Marie Roerink said.
"Most consumers are aware of and concerned about inflation," she told SeafoodSource, adding that 94 percent of American shoppers surveyed by IRI and 210 Analytics in December 2022 revealed they are still paying somewhat or "a lot more for groceries."
Of the surveyed consumers who noted higher prices, 97 percent said they are concerned about the level of inflation, Roerink added. IRI and 210 Analytics also found that 30 percent of American households had difficulty affording groceries as of December 2022. Additionally, 43 percent of Americans told the surveyors that they expected their financial situation to be worse off by December 2023, with 38 percent of households saying their financial health is currently strained.
For the year ending on 1 January, 2023, both fresh and frozen seafood sales at retail experienced declines, with the former falling 8.2 percent to USD 6.5 billion (EUR 6 billion) and the latter dipping 2.9 percent to around USD 7.1 billion (EUR 6.6 billion), per IRI and 210 Analytics. On the other hand, the analytics firms noted that shelf-stable seafood had a banner year in 2022, experiencing a 5.6 percent sales surge to around USD 2.67 billion (EUR 2.5 billion).
While sales have dropped over the short-term, in the longer-term, Stein said seafood's performance at retail is tracking quite strong.
"In general, seafood department sales increased over the long-term. If we look at seafood sales numbers against pre-pandemic numbers, it's a great story. However, when we look at seafood sales numbers against the previous years – 2020 and 2021 – the category is down. This is an effect of having such high sales in 2020 and 2021," Stein said.
Both Stein and IRI predicted total food inflation will begin to taper down in 2023.
"Meat and seafood inflation have been trending lower than total food and beverage and IRI expects them to continue lower," IRI Executive Vice President, Americas Protein Practice Leader Chris DuBois said in January 2023.
Stein said that the lessons learned over the course of the pandemic provide a solid foundation that will help ease recovery as inflation starts to dissipate this year.
"During the COVID-19 pandemic, grocery seafood departments saw an increase in sales and volume. This was in part because shoppers were eating most of their meals at home and many consumers who typically enjoyed seafood dishes out at restaurants took to cooking seafood meals at home. Because of this, many shoppers increased their culinary skill-set and we saw an increase in the number of frequent seafood shoppers (two or more times a week)," he said. "As inflation lessens and supply chains realign, we expect shoppers who learned all those great seafood culinary skills to come back to the department seeking healthy and affordable seafood options."
Restaurants' rough road persists
Soaring food and labor costs have taken a toll on U.S. restaurant operators and their optimism.
According to an August 2022 National Restaurant Association (NRA) survey, 46 percent of U.S. restaurant operators said they believed business conditions were worse over the summer than they had been three months prior. Most of the survey's respondents (85 percent) said their restaurants were less profitable in 2022 than they were in 2019, and 88 percent said their total food and beverage costs were higher than three years ago. The rising costs have had a multi-pronged impact on menus, the survey found, with 91 percent of restaurant operators upping their menu prices and 65 percent changing the dishes they offer because of financial strain.
Preliminary data from the U.S. Census Bureau and the U.S Bureau of Labor Statistics for December 2022 showed a 8.3 percent year-over-year hike in prices for food away from home for the month, as well as a sales drop of 0.9 percent to USD 88.3 billion (EUR 82 billion) from November to December 2022.
A majority of U.S. foodservice operations participating in the NRA's year-end Business Conditions survey highlighted higher food costs (92 percent) and labor costs (89 percent) as significant challenges they're facing. Because of these pressures and others, 50 percent of the operators said they expected to make less profit in 2023, the survey found. To manage higher costs, restaurants have increased menu prices (89 percent), changed their menus (59 percent), reduced hours (48 percent), postponed expansion plans (38 percent), closed on days they would normally be open (32 percent), cut back on third-party delivery (13 percent), and postponed new hiring (19 percent), according to the NRA survey.
Wallet woes have also vexed diners.
"Inflation is pressuring restaurant trips," Roerink said, with 71 percent of consumers buying restaurant meals less often. "Consumers are not skipping restaurants as much as they are being more strategic about [going]."
A recent Acosta shopper insights survey found that 61 percent of Americans admitted to eating out less often. Furthermore, Acosta said around 50 percent of consumers surveyed believed that the U.S. was in a recession.
"Over the last couple of years, we have seen an increase in dining in restaurants, but it's still not back to pre-pandemic levels," Acosta said in its survey overview. "And now, with inflation and other economic factors, there will be a struggle to get there this year."
Nevertheless, there are glimmers of hope for the foodservice realm for 2023. In its "What's Hot 2023 Culinary Forecast," the NRA identified pent-up demand among Americans for gathering together and dining out, with 70 percent of the survey's 500 professional chefs sharing the sentiment that consumers crave in- restaurant experiences for socialization, celebration, and culinary exploration.
"Moderate, but positive employment growth across the economy and elevated consumer spending in restaurants will allow the restaurant industry to kick off 2023 on a more optimistic note than the last few years, but operators remain braced for potential challenges in the new year," NRA Senior Vice President of Research Hudson Riehle said.
Profiling modern seafood shoppers
There are certain drivers of seafood consumption that remain consistent over the long run, specifically price and convenience. Amid inflationary times, however, price's influence has become even more powerful, FMI's Stein noted.
"Again, inflation played a big role in shoppers' habits in all departments, including seafood, in 2022. It's interesting to note that shoppers didn't just buy less seafood at the grocery store, but also purchased less seafood at restaurants. This tells me that the price-point was really at play here and that once inflation lessens, we're likely to see seafood shoppers return to the department," he said. "And since many of those shoppers have increased knowledge about seafood options and preparation, they will likely return to grocery seafood departments more quickly. Again, if we look at the five-year trend of seafood department sales, we are still selling an upward trend. One unique characteristic is that we are seeing older millennials leaving this category. We still need to do more research to understand why, but we believe it is due to inflation."
Wellness and sustainability have become more prominent in driving consumption recently, Stein noted.
"The fact that consumers are still cooking more at home plays into the upside for the seafood department. In addition, there are two trends that are likely to carry over for the seafood department – health and well-being and sustainability," Stein said. "The pandemic made shoppers laser-focused on health and well-being and I think this trend is likely to continue for some time. The [USDA] Dietary Guidelines generally recommend that consumers eat seafood at least twice a week and this recommendation is likely to continue to drive consumers to the category."
Several recent studies have noted there is an expanding group of consumers who are using their wallets to take control of their impact on climate change. One such report, released by the Marine Stewardship Council (MSC) in late September 2022, calls this group of environmentally-conscious consumers "climatarians," and after a "summer of life-threatening heat waves, extreme storms, unprecedented flooding, and other weather events exacerbated by climate change," they're a brand of shopper that's expected to stick around.
"These conscious consumers aim to shop for products that meet their personal environmental values, and a growing group of shoppers strive to be 'climatarian' in their decision-making," MSC said.
In its Power of Seafood 2022 report, FMI observed more shoppers choosing seafood for sustainability reasons in 2021, with 38 percent of surveyed consumers admitting they chose the protein more often than others because they saw it as environmentally-friendly or sustainable in general.
"Half of seafood consumers (50 percent) say sustainability claims or certifications have a major impact on their purchase decisions," FMI said.
Stein agreed that "sustainability is often on the minds of consumers these days," however, "many shoppers are not sure what terms like farm-raised, wild-caught, and aquaculture mean and what the sustainability pros and cons of each method might be."
"This gives retailers and suppliers an opportunity to better educate shoppers about seafood sustainability traits," he said. "We hear from consumers about the need for enhanced education in the seafood departments. Shoppers want to know about the different species, preparation techniques, nutrition information, and more. A highly knowledgeable seafood staff will continue to be a strong strategy for a seafood department's growth and to develop shopper loyalty. Customers are starved for cooking ideas and meal planning, so any way the seafood department can help consumers meet their meal solution needs in the seafood department will help sales and build return shoppers."
Looking deeper into 2023, Stein said inflation and supply-chain disruptions will likely continue to dominate headlines for a bit.
"I think inflation will continue to impact the entire food industry, not just seafood. Supply-chain disruptions are another factor likely to continue to play out," he said. "To hear more, join us at our SENA session about the 2023 Power of Seafood report on Sunday, 12 March at 3:30 p.m. EST. We'll share the latest findings from the research and offer insights into shoppers' seafood-buying habits."