Norway adopts new regulations on catch sampling for industrial fisheries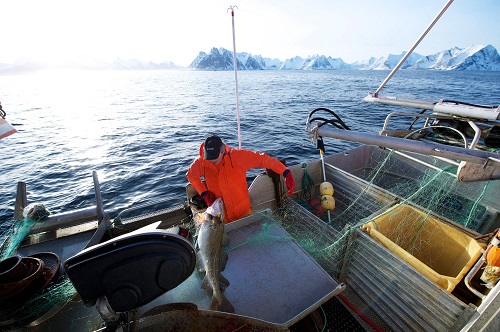 The Norwegian Ministry of Trade, Industry, and Fisheries has adopted new regulations on the sampling of industrial catches upon landing.
The new regulations will come into force on 1 January, 2024, and are intended to provide more control over raw material harvested and landed for producing fishmeal and fish oil, the ministry said. Enforcement of the new rules during the run-in period will be "adjusted as necessary" via dialogue with the fishing industry.
However, some of the species used for industrial reduction fisheries have been facing sustainability issues in recent years, and the Ministry of Trade, Industry, and Fisheries is pushing to ensure the country's catch is measured correctly.
"Now we are getting a set of regulations in place which means that the catches harvested for industrial purposes are registered in a good way. It will give us a better knowledge base for fisheries management in the North Sea, and better control that industrial fishing is in line with quota restrictions and other regulations," Norway Fisheries and Oceans Minister Bjørnar Skjæran said in a press release.
In Norway, the rule for recording catch in industrial landings differ from other species because "the catches consist of large volumes of mixed catches of a number of species," according to the ministry.
"Both the industry and the administration have long recognized that we need better regulations, to ensure better documentation for the reported catch composition in these landings," the ministry said.
The new requirements are harmonized with the requirements in Denmark and will "ensure equal conditions of competition," it said.
"The regulations are also important for the fishmeal and oil industry to be able to document to their customers that the raw material they use is legally harvested from sustainably managed stocks," Skjæran said.
The regulations require continuous sampling of all industrial catches that are landed, and require reception facilities that receive catches to have sampling systems suitable for determining the species and size composition of the fish they receive. The regulations also include requirements governing the design of the sampling system and the size and number of samples required, and the frequency they are taken.